KONE Vietnam LLC, media release on December 1st, 2022

KONE DX class elevator with built-in connectivity was named as the winner of the "Vietnam Smart City Award 2022" for smart building solutions at VINASA's annual ceremony on December 1, recognizing the efforts of KONE Vietnam towards being a trusted partner for developing smart and sustainable cities.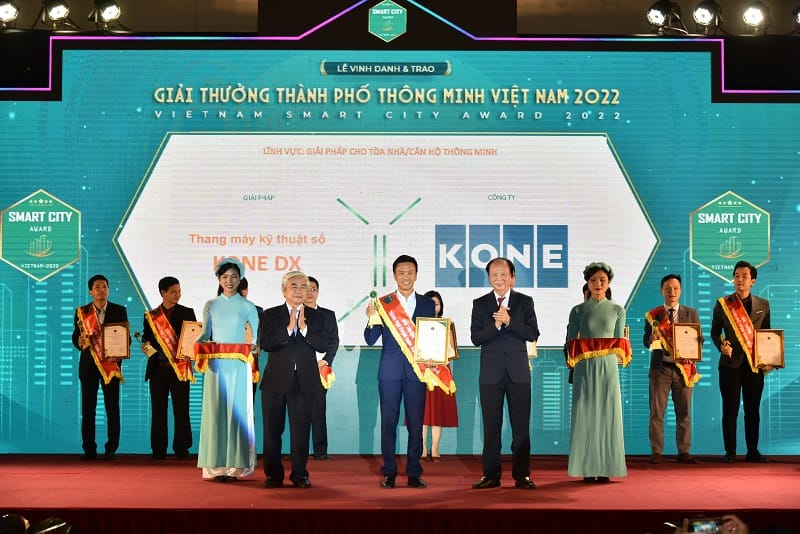 KONE Vietnam, the local entity of Finland-based world's leading enterprise in the elevator and escalator industry KONE Corporation, bagged the "Vietnam Smart City Award 2022", at an official awards ceremony in Ha Noi on December 1st, 2022. Its KONE DX class elevator has been featured in "Solution for smart building / apartment" category and KONE is the first and only FDI company named for this award.
This recognition is a testament of the continuous effort of KONE in contributing to the development of smart and sustainable cities in Vietnam. Since the introduction of KONE DX class elevators in Vietnam in April 2022, KONE has actively participated in many events, seminars, and conferences in various topics about smart city, digital transformation, and sustainability across the country.
Smart City Award is an annual award initiated by Vietnam Software & IT Services Association (VINASA) to honor the cities, organizations, and businesses who have invested considerably in helping cities to become smarter, more competitive, sustainable, and a better place to live. It is also intended to encourage enterprises to create advanced technological products and boost cooperation in building and developing smart cities in the country.
"This is an acknowledgement of our pioneering initiatives that support Vietnam on the journey of smart and sustainable cities development and offer the world's first digitally connected elevators KONE DX with built-in API integration for improved people flow. We are proud to be the only elevator company contributing a practical solution for smart cities in Vietnam, one of the priorities of Vietnamese government towards 2030," said Bas Degeling, KONE Vietnam's Managing Director.
"This achievement will encourage us to collaborate with the Vietnamese software developing companies for further integration into the KONE DX's ecosystem. By working together, we can provide more local tailor-made solutions to improve people flow, helping the country towards a smarter, sustainable, and healthier future,"Bas added.
About KONE Corporation
At KONE, our mission is to improve the flow of urban life. As a global leader in the elevator and escalator industry, KONE provides elevators, escalators, and automatic building doors, as well as solutions for maintenance and modernization to add value to buildings throughout their life cycle. Through more effective People Flow®, we make people's journeys safe, convenient, and reliable, in taller, smarter buildings. In 2021, KONE had annual sales of EUR 10.5 billion, and at the end of the year over 60,000 employees. KONE class B shares are listed on the Nasdaq Helsinki Ltd. in Finland.
For further information, please contact:
Marketing & Communications Department
KONEVietnam LLC
Email:konevietnam@kone.com
Phone:+8428 3997 5373